*I translate a Japanese article into English
Currently, the unmanned process that revolutionizes the distribution industryis progressing on a global scale, and the "unmanned workforce" that was still thought to be the future is being put to practical use overseas, mainly at convenience stores.
In Japan?
So, how far is Japan's "labor unemployment" progressing?
Japan is one of the world's leading "convenience store convenience stores".
It is no exaggeration to say that most of the convenience store cultures and current systems in the world originated in Japan.
However, "unmanned convenience stores" has not yet been put into practical use.
The reason why unmanned operations are delayed in Japan as a convenience store powerhouse is because the " settlement system " that is the key to unmanned operations is an issue.
With the development of IT technology, we have entered an era where any product can be easily obtained without worrying about the distance and size of the store.
At the same time, a payment system that is independent of distance and time is required, and the credit card was born.
However, there are various problems with credit cards, such as high fees, slow processing, and the need to review them to make them.
In the rapid growth of the IT industry, China thought that credit cards would not be efficient in this new era of IT, and came up with a QR code payment system that used the current Alipay system and became popular.
It can be said that the hurdles to unmanned convenience stores were low because payments can be made easily with a smartphone.
Since Japan is still a cash-centric society, the usage rate of credit cards is lower than in other countries, and the move to unmanned operations has slowed due to problems with payment systems.
Many foreigners will visit Japan at the 2020 Tokyo Olympics.
If there is a system in which foreigners can easily make payments, it will produce tremendous economic effects.
The topic of cashless is attracting a great deal of attention within the government, and problem solving is urgently needed.
Under such circumstances, various companies are focusing on the unmanned business. In particular, Lawson is a company that actively participates in the unmanned business due to lack of personnel.
Lawson has already been partially unmanned during the night shift.
The payment system collaborates with Rakuten and can be settled with Rakuten Pay.
All you need to do is install the Rakuten Pay app and pay with a QR code.
Actually, I recently started using Rakuten Pay, but it is very convenient because you can make payments simply by showing the QR code.
Rakuten points can also be collected, so you can pay with points, and Rakuten users are recommended.
In addition, Lawson's ponta points are also collected, so it is even more profitable.
BREEZE initiatives
"Mospeng Research Institute, Ltd.", an affiliated company of our Breeze Group, has an unattended convenience store business.
In 2018, RSP pre-opened "Robot Mart", an unmanned convenience store that does not use cash, in Kayabacho, Nihonbashi.
As a payment system, we plan to introduce a QR code payment system.
(As of November 5, 2018, the store is closed for introduction preparations.)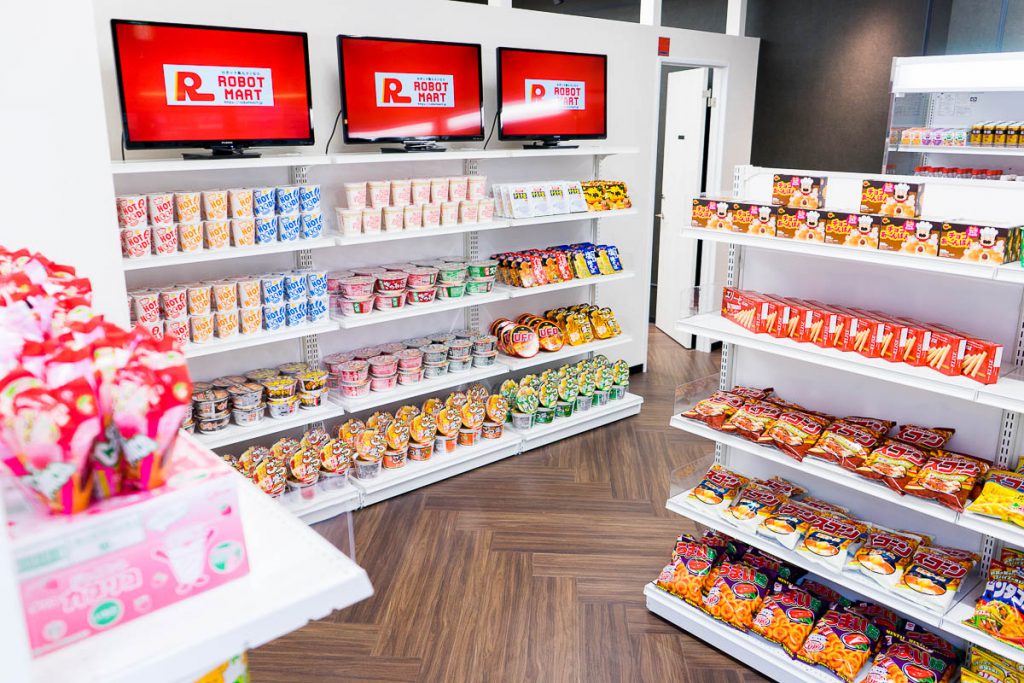 ■ Store information
Store name: Robot Mart Address : 20-6 Nihonbashi Kabutocho, Chuo-ku, Tokyo 103-0026, Tokyo Kojimachi First Building 1F
Contact person: Yoshida
TEL: 0800-1236110
WEB: http://robotmart.jp/
SUMMARY
The world is becoming unmanned in various styles in each country.
I would like to pay attention to how unmanned, which will cause a major revolution in the distribution industry, will affect our lives.
With the development of technology,there is no doubt that it will become a great world!